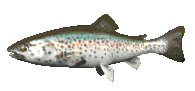 Croxdale: Rivers Wear & Browney
PLEASE NOTE THAT AS FROM 1st APRIL 2019 DCAC DOES NOT HAVE ACCESS TO THESE WATERS. click on link for Ferryhill Club news page.
https://www.ferryhillanddistrictanglingclub.com/fdacnoticeboard.htm
​
On the river wear from the railway viaduct to the old stone bridge (north bank) and from the new road bridge on the A167 down to the confluence with the river Browney
On the river Browney (south bank) from its confluence with the river Wear upstream to the sewage works
Any legal method. The use of maggots, bread, luncheon meat, pellets and all baits usually associated with coarse fishing is not allowed from the 15th March to 15th June, both dates inclusive.
Parking: In the north end of the Honest Lawyer car park, or in the lane leading to the old stone bridge.
This water is leased by Ferryhill & DAC and sub let by a number of angling clubs. Please note that Ferryhill & DAC does not allow the use of keepnets on this water
Please Note, The parking facility at the side of the Honest Lawyer is now open to club members
The section of the river Wear from below the old stone road bridge to the A167 road bridge is strictly private
Croxdale
This is a shared section of water that we have access to and is good for game fishing and wading is preferred for this type of fishing. We do not put dedicated bailiffs on but our bailiffs do go on and check permits at times, it tends to be checked by the clubs anglers due to the good game fishing.
There are coarse fish in this section and access is good to the waterside all along its stretch. We also have the River Brownie that meets the lower end section of our stretch where it meets the wear. We have the fishing on the Brownie a good way back to the viaduct and is good on the small fly with light tackle at times but best wading rather than bank side fishing at times.
All members must carry their Club Card at
all times when on Club waters
Take Closer look